We constantly invest in trialling new species that should have the capability to thrive in the arid conditions of the Gulf region
Desert Group owns and manages the largest nurseries setup in UAE, Wahat Al Sahraa, including subsets in Bahrain and Thailand. With over 10 million square feet in the UAE and 5 million square feet of nursery land located overseas, we stock a wide selection of plants ranging from the exotic to the more familiar tried and tested ornamental species with a selection of native local plants. We assist many of the landscape consultants and contractors to help select plants suitable for the region. We have one of the largest stocks in arid adaptive and native plants in the region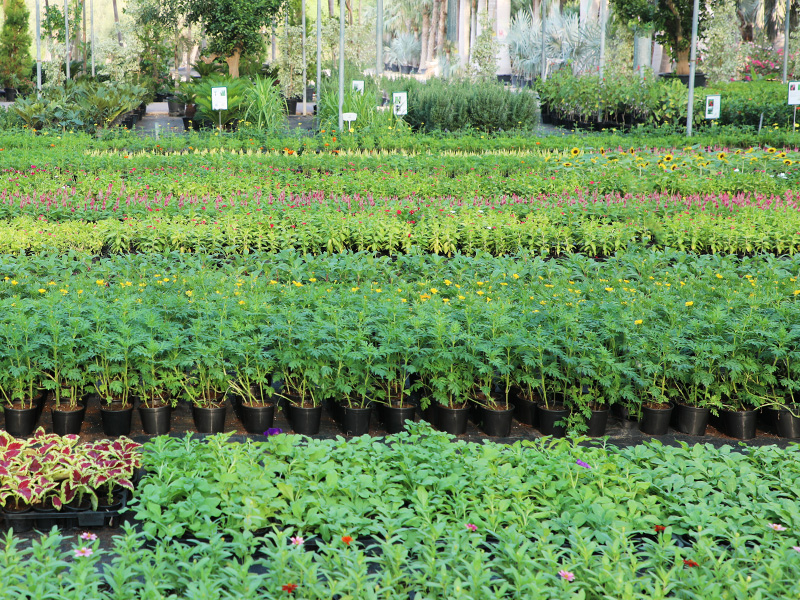 Our range of plants include mature palms and trees grown or imported to order, acclimatized and then released to the market with our guarantee. We offer a similar service for shrubs, vines, ground covers and seasonal flowers.
Wahat Al Sahraa Nursery are always searching for new ways to help make our customers planting projects as simple as possible. We come up with cost-effective & appropriate solutions for your planting requirements, whether it may be hard-to-find varieties or large quantities of plant & trees.
Contract growing with Wahat Al Sahraa guarantees you supreme quality of plants and trees to meet all your specification requirements and deadlines at an economical price. We will custom grow desired sizes, quantities, varieties of plants & trees to meet all your restorations and landscaping needs. Your landscape designers can work confidently knowing which plants have been ordered with specific quantities, sizes they were ordered in and their estimated delivery time.
The nurseries have the capacity to supply both our own Desert Group requirements as well as meeting the demands of the retail and wholesale sectors along with landscape contractors and developers and government clients throughout the UAE and beyond. For major project developments, we are also able to provide site nursery construction and plant procurement together with operation and maintenance services from start to completion.
We have an experienced team of personnel skilled in the science of both nursery work and horticulture who are constantly involved in trailing new species to ensure their ability to thrive in the arid conditions of the gulf region. Our contribution to greening Dubai's landscape and our production of quality plants has been recognized through awards given by key government organizations such as Dubai Municipality.